Looking to sell?
Sign up now and find out your home's value
Already over 70,000 valuations created
How much does it cost to sell a property

Speculation tax
When are taxes payable on sales and how high are they?
Click here >

Agent commission
How much does an agent get and who pays the commission?
Coming soon

Prepayment penalty
How much will the early repayment of your mortgage cost?
Coming soon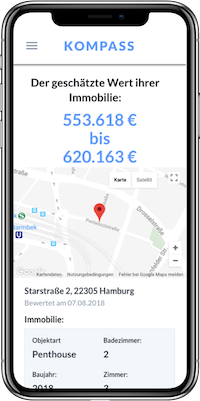 Ready to sell?
Find out how much your property could bring in a sale.
Receive a free online property valuation and find a local professional to support you with the sale. Online, free and non-binding.
How much could your property bring if you sell today?
Start with the free online property valuation to get a first idea of your homes value.
Free on-site valuation by a local professional
After your online valuation we recommend you a local expert to help you with the sale
Learn more about the local market conditions
See if now is a good time to sell and how much comparable properties were sold for in the past
Property value estimations
Online or on-site?
Online property valuation tools look at historic data of transactions to predict what a home is worth but they're often missing data, making them incomplete. Current market conditions or specific property details cannot be accounted for in an online valuation.
Local professionals can physically inspect a property to determine a realistic selling price. They list houses just like yours every day, know the neighborhoods, know what's trending and can call out unique characteristics on the property. No online tool can do that.
Online
On site

Available Transaction Data

Compile selling prices from past years

✓
✓

Current offers on the market

How does your property compare to similar offerings currently on the market?

✓
✓

Recently sold properties

What was the selling price of recently sold similar properties?

✓
✓

Characteristics and condition of the property

A realistic selling price can only be determined after an on-site property valuation. Characteristics and the condition can make a big difference and cannot be accounted for in an online valuation

✓

Current local market conditions

Are you in a buyer or seller market? What does the current market situation look like? What types of properties are in high demand? An experienced agent can answer all these questions and more.

✓
Advantages of selling your property with an agent
Agents know the area best
Every neighborhood is unique. Local real estate agents understand the nuances.
Agents sell similar properties all the time
Online estimates can't speak to nearby buyers about what drove them to buy that house next door.
Agents are on your side
Their success depends on the ability to list your property at a fair price and sell it quickly.
No seller commission in many regions
The professional services of a qualiefed agent are free for the owner in many regions. That means as a seller you get to enjoy all the services on an agent for free. Find out how much the sale with an agent would cost in your region.
Get more for your property

Find an agent with experience from sales of similar object in your region.